Why is it important to use an acidic hair rinse?
An acidic hair rinse is a critical part of your natural shampoo bar regimen. The acid in the rinse removes scaly build up and residue on the scalp and hair shaft, and smooths the cuticles/scales causing them to lie flat and SHINE. The acid also restores the natural pH of your scalp, preventing it from becoming dried out and itchy.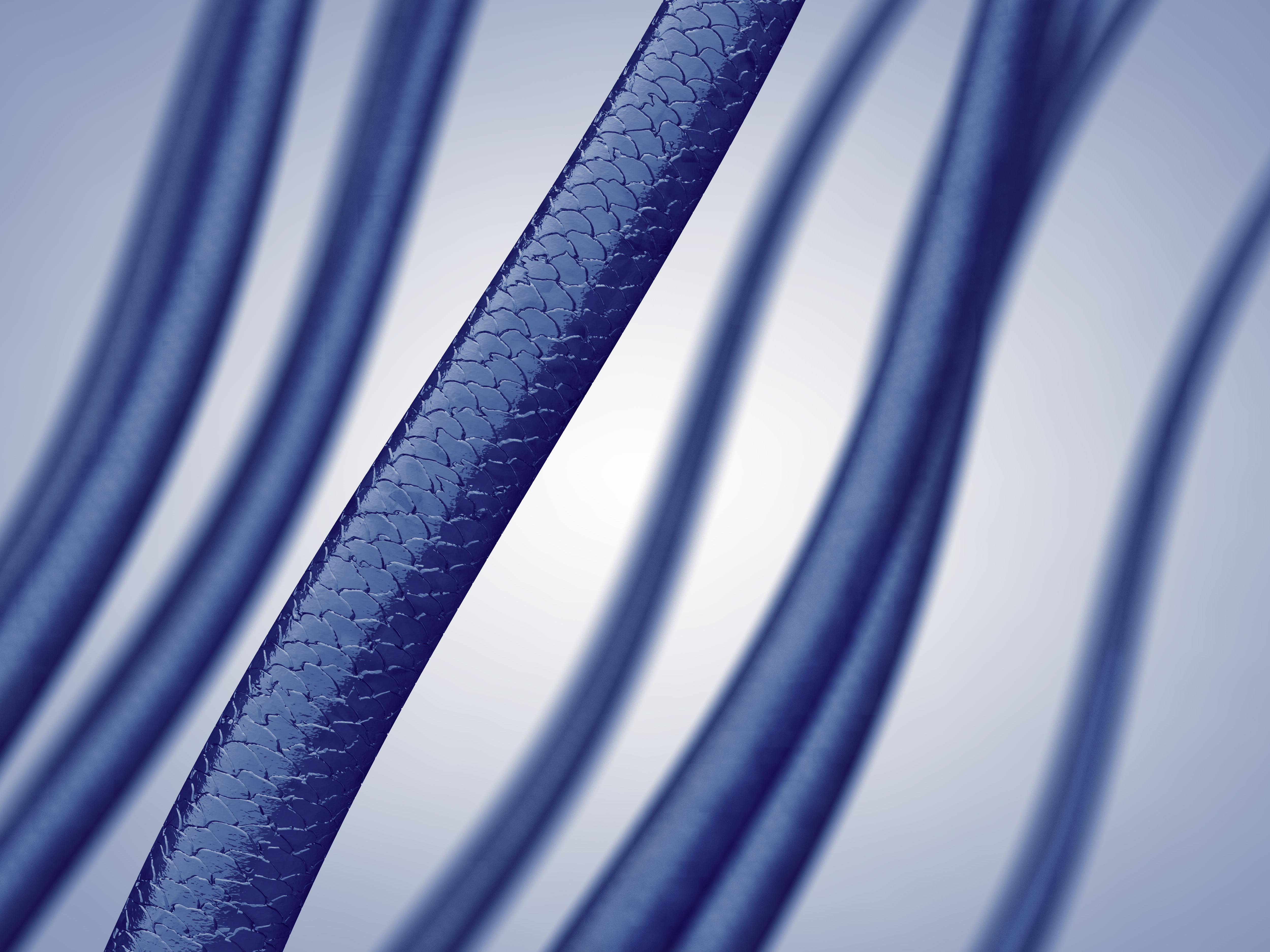 Each strand of hair has a cuticle which is made up of layers of protein, called keratin, scales cover the cuticle by overlapping each other. Healthy hair has scales that lie flat. Some commercial shampoos not only strip hair of its natural oils, but also injure the cuticle by tearing up the overlapping scales. Natural shampoo bars will not strip the hair of its natural oils, nor damage the cuticle and scales. You can read more about the benefits of our natural shampoo bars HERE.
Whenever hair becomes wet, the scales raise or soften slightly. Damaged hair also has raised scales, or "roughed up" cuticles. When washing hair with hard water, a high mineral content made up of mostly calcium and magnesium combine with the soap and form deposits on your hair (under and around the scales) weighing it down. Your hair may feel sticky and dirty no matter how often you wash it. Shampooing with soft water (which has a low concentration of minerals mostly of sodium and/or potassium ions), and following with an acidic rinse, will gently cleanse hair, remove deposits, and cause these scales to once again lie flat. This allows all residue to wash gently away leaving healthy shiny hair.
The Transition Phase. Most everyone when trying natural shampoo bars for the first time will experience this in one way or another. This transition phase can last anywhere from 1 day to 1 month. You can read more about it HERE.

Acidic Rinses.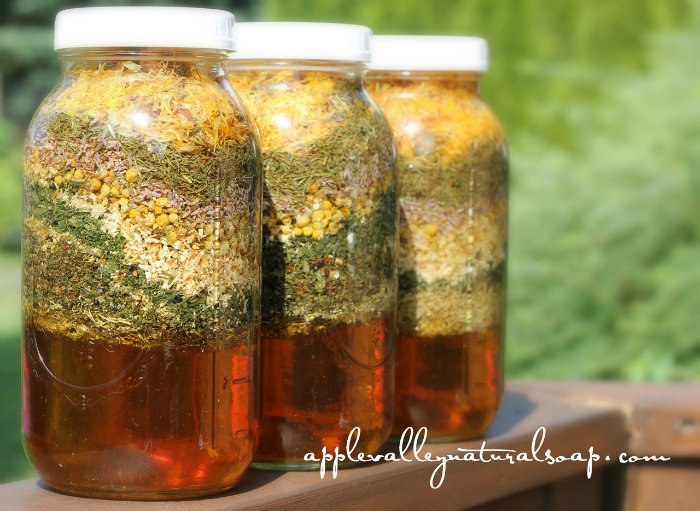 Our Herbal Vinegar Hair Rinse is made with RAW certified organic apple cider vinegar. The vinegar is infused with nine certified organic herbs that your hair and scalp will love. Packed with trace minerals and vitamins, these herbs will nourish your scalp and strengthen your hair shaft. As we already mentioned, the acid in the vinegar removes scaly build up and residue on the scalp and hair shaft, and closes the cuticles causing them to lie flat and SHINE.

Organic ingredients and their benefits:
Because of its antiseptic properties, apple cider vinegar may help soothe the itching or irritation from psoriasis and other skin conditions. The acidity of vinegar works to remove build up from hair, it also balances the pH of scalp and hair, smoothes the cuticles and leaves hair feeling soft and silky.
Marshmallow Root softens hair naturally and promotes hair growth. It provides natural shine and soothes dry, itchy scalp.
Horsetail can improve circulation, leading to the improvement of hair follicles and scalp, which helps stimulate hair growth. It is also great for treating oily scalps and soothing skin ailments such as dandruff, eczema and psoriasis. The herb also rejuvenates hair, adding sheen and strength.
Nettles have been known to inhibit the hormone DHT helping to combat hair loss, and the astringent properties may help soothe conditions such as scalp eczema, dandruff and dry, itchy scalp. Nettles also have anti-inflammatory properties.
Chamomile is wonderful for conditioning the hair as well as soothing an itchy, irritated or sensitive scalp and preventing dandruff because of its antiseptic elements.
Lavender is wonderfully healing and soothing, it also reduces inflammation, promotes hair growth and is antimicrobial, meaning it'll help prevent scalp issues such as itchy scalp, dandruff and infractions.
Comfrey Root restores sheen and volume to hair. It is also great for the scalp because of its healing properties which come from the many antioxidants, vitamins and minerals. The roots and leaves of comfrey also contain allantoin and tannin that promotes new cell generation.
Rosemary helps to stimulate follicles making the hair grow longer and stronger. It is also traditionally known to slow the appearance of grey hairs, to help curly hair, and to slow down premature hair loss. It has anti-viral, anti-fungal, and anti-bacterial properties, so is used to treat dandruff.
Calendula has antiviral, anti tumor, anti-inflammatory and antibacterial effects. It's impressive because of its ability to speed healing and lower inflammation. It also promotes growth of stronger hair by increasing collagen production and circulation in hair follicles.
Yarrow is anti-inflammatory, antiseptic, and astringent making it ideal for treating scalp conditions and promoting hair growth.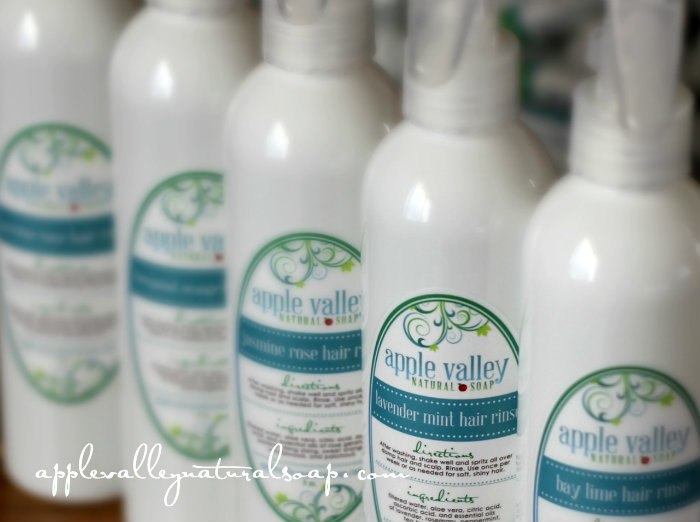 Our Citric Acid Rinses are a great alternative for those who do not like the smell of vinegar. Each of our sprays have the same the same pH value as apple cider vinegar but are rinsed out of hair after application. Unlike the Herbal Vinegar Rinse which has the option of being left in. As with the Herbal Hair Rinse, these rinses will help the cuticle scales to lie flat which helps remove build up and restore the natural pH, leaving hair soft and healthy.

Ingredients and their benefits:
Aloe vera contains something called proteolytic enzymes which repairs dead skin cells on the scalp. It also acts as a great conditioner and leaves your hair all smooth and shiny. It promotes hair growth, prevents itching on the scalp, reduces dandruff and conditions your hair.,
Essential oils: We've chosen a variety of essential oils for our rinses which not only smell divine, but also have wonderful healing properties. Bay essential oil is known for promoting wound healing and inhibiting growth of bacteria. Lavender, which has amazing healing and soothing properties. Rosemary which is used to prevent premature graying and dandruff. Tea Tree whose anti-fungal and antimicrobial properties make it effective for treating dandruff and seborrheic dermatitis. Frankincense is also excellent at promoting a healthy scalp and moisturizing existing hair follicles to prevent and treat hair loss and so on.
Citric Acid is a great help in treating and soothing itchy scalp, which often leads to hair loss and stops hair growth.
Ascorbic Acid, also known as vitamin C is full of antioxidants which help reduce free radicals. Free radicals can damage your hair making it brittle and more prone to split ends. Antioxidants also protect your hair helping it be stronger and grow quicker.
PlantaSol CCG (INCI Name: Caprylyl Capryl Glucoside) is Ecocert approved and is a vegetable-derived solubilizer. A solubilizer is used to help the essential oils blend well through out the rinse, but we chose this one because it is only rated as a 1 on the Skin Deep database.
As you can see, using an acidic hair rinse is a critical part of your natural shampoo bar regimen and will benefit both hair and scalp. Restore health and beauty to your hair by using natural shampoo bars and acidic hair rinses, your hair will shine with thanks!