Chocolate factory…or Natural Soap factory?
If at first glance you mistook the photo above for a thick block of delicious chocolate fudge, don't worry, I did too. Believe it or not, that's actually the Salted Chocolate Sink Bar…so even if you can't sink your teeth into it, you can still give your hands a good lather. The Salted Chocolate isn't the only AVNS soap bar that looks good enough to eat, in fact, just browsing the AVNS website makes me feel like a kid in a candy store, and let me tell you, meeting Marianne for the first time felt a little like shaking hands with Willy Wonka himself.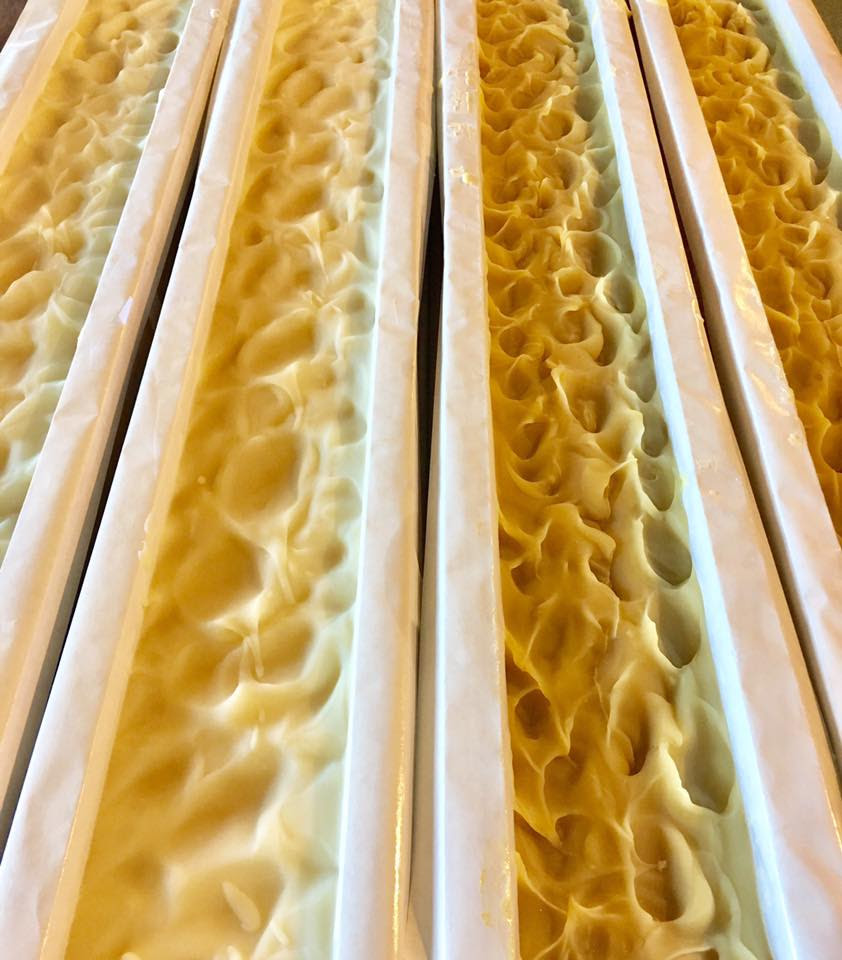 I love chocolate, so it's no surprise that I adore Rohld Dahl's classic tale, Charlie and the Chocolate Factory. I've always envied Charlie Bucket, the young hero who visits the mysterious and alluring chocolate factory and is swept into a whimsical adventure as he becomes privy to the secrets and inner workings of the fantastic factory.
While Charlie's journey allows readers to peer into the fantastic world of Wonka's factory, today I'll be giving you the inside scoop on the process behind making our scrumptious soap!
Soap needs to be clean in order to clean!
You can have a giant factory with a bazillion hallways and rooms and a giant chocolate-churning fountain…or just a simple kitchen, but no matter where you set up, both Wonka and Marianne will agree that an important step in the creative process is cleanliness. When Augustus Gloop falls into Wonka's chocolate river, Wonka is more distraught by the thought of contamination than he is about Gloop's safety. The spaces where AVNS soap is made undergo scrutinous sterilization to ensure that the purity of each product remains intact.
Combining and balancing ingredients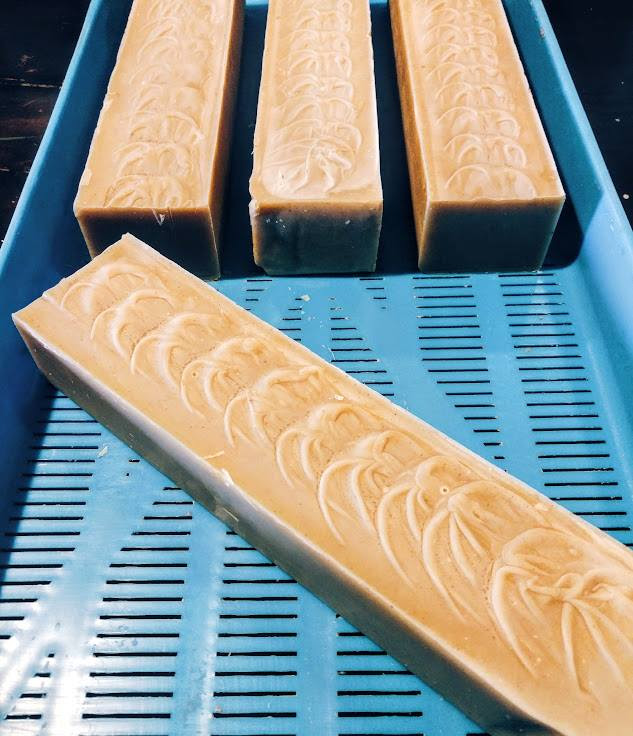 The next step in soap making is to create a recipe. Great soap calls for a great recipe. The base ingredients lye and water are combined. The oils and butters are also combined as they gently melt at the correct temperature. Any delicate, heat-sensitive oils are added secondarily. When both the lye and oils are at the correct temperature, they are blended together until light trace (soap talk for the absence of oil streaks in the mixture). Finally, any essential oils and herbs are added and the soap is poured into molds.
As any chocolatier or "soaplatier" will tell you, attaining the correct balance of ingredients is essential. After Augustus Gloop gets sucked up the chocolate pipe and carried away to the fudge room, Mrs. Gloop panics at the thought of her son being turned into fudge. However, Mr. Wonka (knowing that Gloop would unbalance his recipe) reassures her he will not allow this to happen, "'Because the taste would be terrible..Just imagine it! Augustus-flavoured chocolate-coated Gloop! No one would buy it" (Dahl).
Can you imagine? Salted Chocolate Gloop Sink Bar? No, thank you.
The setting and curing process
One of my favorite parts in Charlie and the Chocolate Factory is when Violet Beauregarde steals a stick of gum from Wonka's Great Gum Machine and starts chewing. Wonka tries to warn the greedy girl that his recipe is premature, but Violet does not heed his warning and before she knows it, she begins to swell like a blueberry while consequently turning a violent shade of violet. Using our soap will never turn you into a blueberry because like Willy Wonka, we know that timing is everything. After the soap is poured into molds it sets for 12-36 hours and then cures for another 2-6 months.
What matters most
Willy Wonka prides himself on the inventive and exotic origins of his candy creations, but what is most important to him — and what Charlie learns during his visit — is that at the end of the day, what really matters most is the chocolate.
AVNS has an impressive selection of unique soaps, all different and all hand made…but when stripped down to the core, there is a greater mission at hand. All of AVNS soaps are biodegradable, meaning that every ingredient used in an AVNS bar of soap can be broken down by microorganisms. This natural form of decomposition is eco-friendly, making our soaps like the Organic Coconut Bars, Organic Castile Soap Bars and the seasonal Camping Bar great (and packable) for your camping expeditions!
Although the Salted Chocolate Sink Bar is inedible, it does have a little Wonka-esque trick up its sleeve: it doesn't contain added scent. The minimal ingredient list allows the natural scent of delicious organic cocoa butter to smell for itself! This isn't the only unscented soap bar, many of our natural and organic soaps use minimal ingredients to cater to both the environment and sensitive skin. Our Calendula Castile Bar is only composed of saponified organic extra virgin olive oil and organic calendula petals, that's a peace-sign amount of ingredients!
By using minimal, natural ingredients to make our soap, AVNS aims to promote peace: both inner and with the earth. I'd pick that kind of peace over a piece of chocolate any day.
P.S. Although our soap looks good enough to eat (and is Gloop-free) please do not nibble!